The technology in which braces are designed has come a long way. Great strides have been made in reducing the size of the brackets while using superior materials to make the experience more comfortable and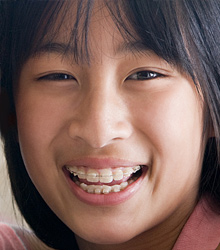 esthetically pleasing. Our new, clear brackets are very attractive and have great resistance to fracture or staining. When these super clear ceramic braces are paired with a clear wire, you will barely notice them!
What is the difference between clear braces and clear aligners?
Clear braces are similar to traditional metal braces except that they are made with a clear, ceramic material! They are as effective as metal braces except they are less noticeable. Most teenagers and adults prefer this clear alternative to metal braces.
Clear aligners are different from clear braces in that they are removable, clear, custom made trays that are designed to fit over your teeth. You will switch into new trays every 2 weeks and they will slowly move your teeth into the desired position. What are the advantages and disadvantages to clear braces?
If your best treatment option is braces, you can still chose the type of brackets that are less noticeable. We will show you at your initial exam models of metal and clear braces so that you can still have a less noticeable treatment option if you chose.
Advantages to clear braces:
Appearance: Ceramic (clear) braces offer a much less noticeable option than traditional metal braces. The brackets slots and wires we use now are also clear for a much more esthetic approach than clear braces of the past.
Effective: The same end result will be achieved whether you chose traditional metal or ceramic braces.
Confidence: The idea of going into full braces as an adult can be scary! Check out our super clear brackets and you will be pleasantly surprised. The clear option gives our patients more confidence about smiling while their teeth are moving to a beautiful position!
Disadvantages to clear braces:
Cost: Ceramic (clear) braces cost slightly more than traditional metal braces. We offer convenient interest free payment plans to help you with the financial end of your treatment.
Maintenance: Since the ceramic braces are clear, food will show up more on the brackets after a meal. Therefore, meticulous hygiene is important during treatment (this is necessary with whatever bracket option you chose to maintain the health of your teeth and gums).
Are clear or ceramic braces the right choice for me?
We will go over all your options at your initial examination. Many of our patients come in with preconceived notions of what the braces will look like and they often tell us that our clear braces are much better than what they had expected. Schedule an appointment today to learn about all the options available to you!