We love coming to the Basking Ridge office. The front desk is always a pleasure to deal with. We never have to wait more than a few minutes for our appointment. the doctors are always so pleasant to my daughter and take care of all her needs.
– Bronx, NY
Dr. Mellas is an excellent Orthodontist. She has an great relationship with her patients and her office staff are attentive and efficient.
– Nina Antony in Warren, NJ
I am a 59 year old man who, after caring for my children's teeth, realized that I had neglected my own for 30 years. Dr. Mellas straightened my teeth more that I thought possible and in less time than she had estimated. I had a very positive experience and I am looking forward to smiling more.
– Jersey City, NJ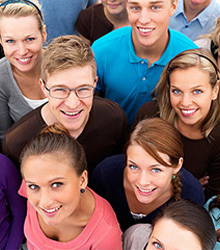 We love Dr. Mellas. She had been treating my children for over 10 years. Always nice. Sweet. Explains everything. My kids love her.
– Joya in Whitehouse Station
Dr. Mellas is very professional, great with kids, excellent skills!!! Kids absolutely love coming to the Orthodontist and they love Dr. Mellas!!
– Sidnela Sharif in Basking Ridge
My son first saw Dr. Mellas about 13 years ago when she first started. I liked her then so when my daughter needed orthodontic work not only did I remember her, but my Dentist's office recommended her. I am so happy we did. I brought my other 2 daughters here as well. Her professionalism, expertise and reputation are well known amongst her colleagues and families. I would definitely recommend Dr. Mellas and have to our friends and family.
– Pri Knorr in Berkeley Heights
Fantastic in all respects. Bed side manner, explaining her plan, gentle hands, sense of humor, approachable and ease of manner. ZERO wait time. Individual Tv's at each chair, clean office, well trained technicians, very courteous front desk personnel.
– Adam in Basking Ridge
The service is quick and friendly. The facility is always clean.
– Clifton, NJ
I was treated as an adult with full braces and Dr. Mellas and her team made the experience worth it considering the beautiful end result. I get compliments on my smile all the time!
– Denise Ocasio
We love Dr. Mellas and the whole staff. The atmosphere in the office is wonderful.
– Denise S
Cannot say enough good things about the Mellas Team! The best possible experiences were all I had while in their care. I had braces as a child and it was the worst possible experience. This was a pleasure!!
– Susan Ogden
My experiences with Dr. Mellas and her wonderful staff have been amazing. My son started at 9 years old and my daughter at 11 years old. We have had nothing but good, friendly patient service from everyone at the office staff. The office is happy, bright, clean, and very kid oriented. Overall Mellas Orthodontics is a great place to be!
– Patty Hammer
Dr. Mellas is always there when you need her! The office staff is great and very helpful!! We love all the locations!
– Linda Murphy
I had orthodontia treatment as a teen and unfortunately "back then" they didn't use palate expanders to allow for the necessary room so I had to endure 4 extractions. After my treatment, my smile was not what I expected and of course over the years, it progressively became worse. After you treated my son, I felt comfortable in seeking treatment alternatives at your suggestion. I must say that a palate expander(removable type) was not what I expected, but it really allowed my teeth to move and allow for that "fuller smile" that I was wishing I had! Your treatment plan allowed me the flexibility to continue with my job, which takes me literally out of the country often, but we were still able to manage my treatment and I can't believe the difference in my teeth!! You don't know how much better I feel when I smile and I can't thank you enough for making this so effortless. As an adult, it is a little uncomfortable starting orthodontia treatment (again) but your office and your staff make the experience so worthwhile. Your office has such a great layout, which allows privacy for the adult patient who may be uncomfortable. Thanks for giving me the confidence to smile and not be self-conscious about my teeth!!! I would recommend you to any adult or child and let them know how great you and your staff are—thanks so much!
– Donna Vible
Both of my children are Dr. Mellas' patients. She did an amazing job on my older son and is currently working with my younger son. Everyone is incredibly nice and the office is very accommodating. They help make the process easier and the results are great. I highly recommend Dr. Mellas.
– Nancy Goldberg
Dr. Mellas and her staff are wonderful to work with. My daughter looks so forward to her visits.
– Caryn Volpe
When you come here if you wear your t-shirt you will get Mellas bucks. When you get enough you can get a prize! This orthodontist is the best ever!
– Julia R (patient)
I have been going to the Mellas Ortho for about a year. They are always very careful, nothing hurts. I had a palate expander and headgear and it was not a problem. The Mellas office is very tidy and clean. Today I am getting my new retainer in the color green, the color choices are excellent. I am very excited. My classmate saw my shirt (Dr. Mellas shirt) I told her about the Mellas Orthodontics and now she has a palate expander and retainer too. The orthodontists (Dr. Mellas and her team) are very nice and friendly. Thank you for creating a smile on my face ☺.
– Emmanuel K (patient)
I wanted to write to thank you for the great job you did with my son Garret! What a pleasure it was to bring him to your office, which is not the typical "doctor's office" as you have set up a beautiful space with a professional atmosphere; yet fun and inviting as well. Over the past 2 years I have interacted with your entire staff and every person is so professional and courteous—you have really chosen a great group of employees! I must confess that when I heard about you opening a practice at Riverwalk, I was thrilled as my experience with Garret's first Orthodontist office in Basking Ridge was not positive. The office environment was more of a "clinic type setting" with a bunch of chairs in a big room and you never knew who you were going to see. The "assistant" was typically involved in the treatment, we never even saw the orthodontist, except for the initial consult. After Garret had his palate expander I knew I was going to make a change and thankfully, you opened your practice in Basking Ridge.
When I was a teen I had orthodontia treatment within a clinic type setting in Delaware and it never seemed that I was treated by the Orthodontist. After 2 years of the treatment I still was never happy with my smile. I also had the sense that they didn't really care much about me, but just seemed to be more interested in "getting us in and out". I surely didn't want my son to have the same experience and given the money that we parents expend we should not have to settle for that kind environment. I wish you well and will certainly recommend you to friends in the future!
– Donna Kirczow
Mellas Orthodontics is an exceptional practice. The staff members are professional and courteous. Dr. Mellas is one of the most wonderful practicing physicians that I have ever seen. She has warmth that makes my children feel comfortable and confident. She has provided exceptional care to my three children. I greatly appreciate her follow-up call at our house to make sure the kids are doing well after their braces are inserted. Mellas orthodontics is the best place for quality orthodontic care.
– D.S.
Very pleased with my daughters care. Great doctors and staff. Comfortable environment for patients of all ages.
– Diane M
We have had a wonderful experience with Mellas Orthodontics. The entire staff is friendly and has an endless amount of patience with my kids. The office is beautiful and convenient. It couldn't be easier or more pleasant.
– Michelle Lobo
I first came to Dr. Mellas in 2003 for my own mid-life TMJ crisis and found her to be very helpful and sensitive to my problem. She was also very flexible in finding a solution I could accept. Years later, I am again with her in her new practice, only now for my 2 children. Her gentle and patient approach is just right when necessary, but can also be firm when appropriate to achieve the desired results. Personally and professionally, we have found Dr. Mellas & Mellas Orthodontics to be a good fit for our family. She and her team are friendly and successful with everyone from the self-conscience adult to the shy, scared child. The entire staff certainly put the needs of their clients first and is always helpful and accommodating. We highly recommend this practice if you want beautiful orthodontic results and a pleasant experience.
– Jeanne F
Dr. Mellas has a wonderful bedside manner and personality. She takes crooked teeth and makes them masterpieces.
– AM (patient)
Dr. Mellas is the nicest orthodontist in the world. I'm excited to get my braces. I'm a little nervous but I trust Dr. Mellas will do a great job.
– Maddy S. (patient)
We have loved Dr. Mellas for many years and we followed her from her old practice to her new one. A few days before her wedding she stayed very late to reinsert my son's front tooth that was knocked out while playing baseball. Four years later, his tooth is still doing well and showing no sign of resorption. Thanks for always going above and beyond!
– Karen M.
Thank you for everything! You have made my orthodontic experience a much less traumatic one. I appreciate the kindness and patience that you show me and all the other kids. I am sure all of your patients will agree when I say that you are awesome! I could not have asked for a better orthodontist. You have made my experience with braces a fantastic one! I will be sure to recommend you to everyone! Thank you for everything, Dr. Mellas!
– Arista P.